Customized Metal Cards are the New Craze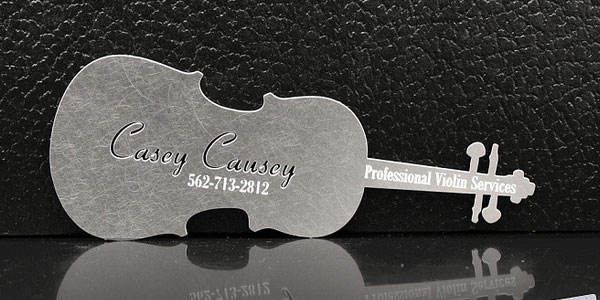 Very often your business card is your lifeline to the customer. Business cards go into pockets, wallets, or are stuffed into drawers only to be discovered later. If your cards are illegible due to smeared ink or liquid stains, the advertising is meaningless. For this reason it is important that they be tough.Acceptprint.com has the solution to this common obstacle. Metal business cards are durable and make an impression that is long lasting. Using Acceptprint.com to produce your metal business cards will give your company a public image that stands above the rest. A metal card has real weight in your customer's hand. It reflects the substance and quality that your company has to offer to its clients.
Metal is the superior material to spread the word about the standards of your company. Customers that see you using material of this caliber in your advertising will have no doubt about the quality of your services and products. Accceptprint.com uses high quality metals to ensure the integrity of your order. The cards can be ordered in different thickness to comply to the exacting demands of the customers. Cards come in measurements of .30mm, .35mm, or .50mm. Available in both silver and gold, you have the option of choosing from stunning die-cut frames. Four additional colors can be incorporated to your design at no additional cost. There is also no fear of injuring your customers with the edges of the cards. Special casting methods are used to dull the edges and round the corners to protect the recipients.
Customization is the key to your designs. You can upload original content or choose from a wealth of templates that are available on the website. Your custom content is reproduced to the highest standards of imaging technology. Plasma cutters are used to etch every detail precisely on the metal business card. There is no limitations to the vision you have for your own advertising. Orders can be made starting at a quantity of one hundred cards and range up to bulk orders of one thousand. The cards are made available at great prices and the pay off for your investment is sure to be seen quickly. There has never before been such a high standard of excellence when it comes to business cards before now. Putting the promise of satisfaction into the hands of your customers is easily done with stylish and contemporary metal business cards.
This entry was posted by admin on November 21, 2012 at 9:42 am, and is filed under Atlanta Business Cards, Business Cards, Chicago Business Cards, Columbus Business Cards, Custom Size Business Cards, Dallas Business Cards, Die-Cut-Business-Cards, Houston Business Cards, Jacksonville Business Cards, Los Angeles Business Cards, Metal Business Cards, Miami Business Cards, New York Business Cards, Philadelphia Business Cards, Phoenix Business Cards, Round Corner Business Cards, San Antonio Business Cards, San Diego Business Cards, San Francisco Business Cards, Silver Ink Business Cards, Square Business Cards. Follow any responses to this post through RSS 2.0. Both comments and pings are currently closed.
Comments are closed.